Chilled and Frozen Food vehicle bodies by LAMBERET
The Lamberet Rigid range offers you a made to-measure solution from the small vehicle with a 7.5 tonnes PTAC to the larger 3 or 4 axle-rigid vehicles.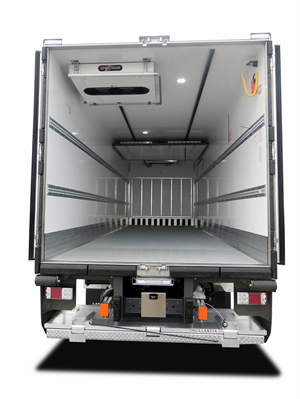 Our bodies are designed to fit all types of chassis.
Our bodywork's adapt to your dedicated logistics and optimise your profitability.                                               
Single or multi temperature, our technical solutions such as mobile or fixed bulkheads
leaf-type or sliding side doors, barn, shutter or lift-up rear doors, retractable or folding taillifts will satisfy all your requirements.
Pallets, trolleys, flowers, meat hanging, fresh products, frozen products, ice-cream, Lamberet has the solution.
– The back of the, chassis is specially fitted out to protect the body against the repeated loading/ unloading operations-of urban distribution.
The Lamberet bodies equip the rigid vehicles but are also used on many articulated lorries in France, nd throughout Europe.
Lamberet also handles specialised logistics such as road/road with swap bodies.
 FRIDGOLINE BODY PDF / CLICK HERE